What is your advice for an actor with no on-camera experience?
Contributed with curiosity by Faculty Member Kana Sato as part 2 of a 4 part interview series with Alberto Bonilla. 
---
Some of us are not fortunate enough to even get in the door. What would you suggest, besides taking a class like yours?
Alberto Bonilla: We are living in an age of technology so there is no excuse for an actor not to have a video or a tape of themselves. You can go to a place, hire them with a high end camera, get some sides, memorize it, have it polished, get in front of a blue or black screen, dressed professionally, good sound, good lighting, and live it out. At the very least you can do that. Video submission is so common. That's going to get you in the door more than if you don't have anything. Casting directors and agents need to be able to see what you can do.  They need to know that you can handle that kind of television script. You can't go in for agents looking for film and TV actors with a monologue from George Bernard Shaw.
What if we don't have any good scripts to do?
Alberto Bonilla: If all you have done is plays, go somewhere, pay someone, and get it done professionally. Do student films. You can go produce your own thing. There are so many writers in New York. All you need to do is grab somebody. If you have a network of friends, throw something on Facebook. I have a student who wanted something for his reel, so we got a group together, filmed it, got it edited professionally, and then submitted it to film festivals. There is a difference between someone who is being proactive and passive. I believe that the future is going to be in video resumes. I believe that what you're going to see is a version of a reel, but more importantly clips so agents can say, "This is it." With the way technology is moving, you should have a really good quality video of you doing a scene using film and television text that you are absolutely right for.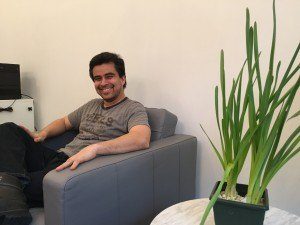 ---
Want to be more like Alberto?
Terry Knickerbocker Studio is a place for actors to commit to to being the best actor they can be